Britain's Best Sitcom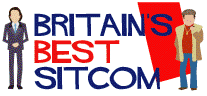 On Saturday 27 March 2004, the BBC held a vote to find Britain's Best Sitcom. I am sure that there was nobody surprised to find that Only Fools & Horses was the clear winner. However, there were a few surprises along the way.
One by one Jonathan Ross was announcing the sitcoms with the least votes and I am certain I was not the only one expecting The Vicar of Dibley to be the first to go. The first shock of the evening was One Foot in the Grave came in a disappointing 10th place. An even bigger surprise was another of my favourite sitcoms, The Good Life was knocked out in ninth place.
When Open All Hours was knocked off I was worried as this was Ronnie Barker's other classic sitcom in the top 10. I was right to be worried because Porridge went next. I can't help feeling that Ronnie Barker fans had their vote split. But then again I am biased!
So we were down to the top 6 and I was still naively assuming that The Vicar of Dibley was about to go. However, what happened next was truly shocking. We lost Yes Minister, Fawlty Towers and Dad's Army! Who would have believed that these three hilarious sitcoms could be beaten by the Vicar of Dibley? Don't get me wrong, I think the Vicar of Dibley is very good. I am a very big fan of the writer Richard Curtis and the superb actress Dawn French. But to beat Fawlty Towers, Dad's Army and Porridge? That was not expected.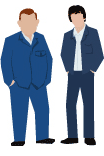 The excellent Blackadder came in 2nd and Only Fools & Horses predictably won. I can't argue with that result and I am proud that Porridge respectably made the top 10.
So the voting's over and we've been treated to some superb clips over the past few weeks. It's back to digital TV to remember Britain's best moments in comedy.